Crystal Harris Keeping $90,000 Ring From Hugh Hefner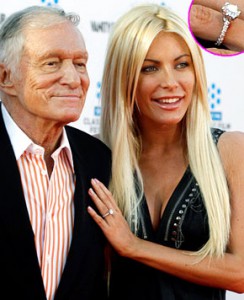 Runaway bride Crystal Harris dumped head Playboy honcho Hugh Hefner before getting to the alter and spent their wedding day partying it up with Heidi Montag at a pool. And how does Hef repay her? By letting her keep her $90,000 engagement ring! 
She reportedly tried to return the 3-carat ring but was told by Hef to keep it along with a Bentley he gave her.
Depending on who you ask, keeping or returning the ring falls on different sides of the etiquette spectrum. What do you think is appropriate?