New Diamond Trend: Black Diamonds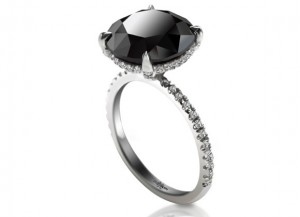 You wanted Carrie Bradshaw's shoes, her purses, her dresses, basically her entire wardrobe and at her best times, her life. So it's really no surprise that the Sex and the City movie sparked a new bridal trend: black diamonds.
The engagement ring that Big gives Carrie is a black diamond. Since the movie, celebs like Tina Fey and Kelly Osbourne have been seen wearing black diamonds  on the red carpet, heightening their profile even more.

The first black diamonds were discovered in the 18th century and are found only in Brazil and the Central African Republic. They are less sparkly than a regular white diamond, but no less beautiful. Slightly more masculine than a white diamond, they are also perfect for men's wedding bands and a nice option for women who want something unique.