Princess Charlene Of Wittstock Marries In Monaco In Head To Toe Diamonds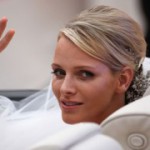 Princess Charlene of Wittstock was decked in diamonds for her royal wedding to Prince Albert of Monaco. We take a closer look at her head to toe dazzle.
The bride looked gorgeous in a custom off the shoulder Armani dress with a long train. It took 2,500 hours to create, including 700 hours for the embroidery alone. To add sparkle, 40,000 Swarovski crystals, 20,000 mother of pearl teardrops and 30,000 stones in gold shades were added.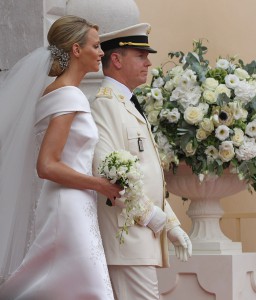 To top things off, she wore a white gold "Diamond Spray" tiara by Lorenz Bäumer. The delicate crown fit her updo perfectly and was made of 11 encrusted diamond pears weighing up to eight carats each. The headpiece was made to reflect Wittstock's love of the sea, and according to a release, symbolized a "joyous outpouring of ocean foam."
The couple exchanged 18-karat white gold wedding bands from Cartier. The Princess white gold engagement ring had a 4 carat pear-shaped center stone and two 2 carat round side stones. The designer named the ring "Téthys," which is the name of the Greek sea goddess.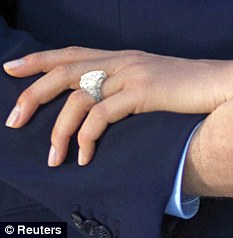 [Images
via
,
via
]