Diamond Indulgence Valentine's Day Promotion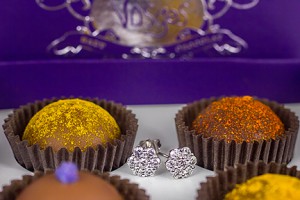 Treat your sweetheart or yourself to a pair of 2 carat total weight Ideal Cut Swarovski CZ stud earrings and some delicious chocolate truffles and get a 1 in 100 chance to win a pair of 1ctw diamond cluster earrings (pictured). Your Diamond Ideals indulgence could be inside this 4 piece chocolate truffle collection from Vosges Haut Chocolat.  Each box costs $75 (value $95) and will contain 4 delicious chocolate truffles, the Swarovski CZ earrings and a card announcing if you are the lucky winner. We are including one winning ticket in every 100 boxes.  The 1ctw diamond cluster earrings retail for $1595. Official Rules can be found in our "Terms and Conditions" section of our site.
This promotion runs from January 29 until February 13, 2015.  Shipping will be done via Priority Mail and can take up to 5 business days to arrive.  Please consider this when ordering.  There are also overnight and Saturday delivery options.  Please look at the pull-down menu when ordering.