Kim Kardashian Engaged! A Look At Her 20.5 Carat Ring!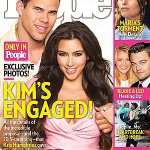 Wow! Just about the only word for Kim Kardashian's stunning new diamond engagement ring is "Wow!!!".
Kris Humphries proposed to the star with a 20-plus-carat gem he designed with jeweler Lorraine Schwartz, who gave Kim jewels for the Emmy Awards, and other events. The 16.5-carat emerald cut center stone is flanked by a pair of 2-carat trapezoids.
"In high school I went to Macy's and bought this fake ring, my 'perfect' ring, and this is almost the exact same,"Kim tells PEOPLE.  "[Lorraine] always listened to what I would want and the shapes I love. I had said I loved an emerald cut and they were scheming and plotting for a while."
This ladies, is why it's important to know, trust and talk to your jeweler about what you want!