What to expect when trying to sell your jewelry.
We often work with our customers who are looking to sell some heirloom jewelry.  As you can expect this comes with many pitfalls and much to consider.  This is a brief overview of the different options you should consider if you are thinking about doing this yourself.
If your goal is to maximize the value of your jewelry, you are best off trying to sell directly to a private consumer.  This can be done through your local paper, ebay, or some other virtual outlet.  Unfortunately this can be the most time consuming and frustrating method and very few people pursue this avenue after the first couple of failed attempts.
If you have time on your hands, you may want to try working out a consignment deal with a jeweler.  This method can take years, but on some rare occasions, if a customer walks into a store looking for exactly what you are trying to sell, it has been known to be fairly quick as well.
The vast majority of people opt for a fast sale to a jeweler.  We do this every day.  The upside is that you essentially walk away with cash in your hand.  The downside is that the cash is nowhere near what your perceived value for the piece was.  What you have to remember is that the jeweler may sit with your piece in his store for years, so it should not be surprising if he is not willing to pay top dollar.  We purchased the ring pictured below as part of an estate with the thought that it would be one of the first pieces we would sell.  Tiffany's sells virtually identical rings every day for nearly double the price.  As you can see, we still own it.  And some day somebody will fall in love with it and purchase it, probably buying the deal of a lifetime.
There is one other option which is a service we provide our customers: let us broker the piece for you.  This option allows us as professionals to work on your behalf and try to get a higher offer on the market than what you would be offered walking in cold off the street.  We know the New York City diamond market inside and out and can usually find the best buyer for your jewelry.
I hope this short article has been helpful.  Please contact us if you have any questions.
This platinum pavé eternity band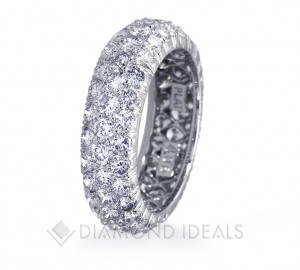 contains 4.05 caratsof exceptionally cut diamonds.  The workmanship on the ring is astonishing, reminiscent of when quality was truly appreciated.